The market took a breather after rising about 11% in the previous three sessions after both Ukraine and Russia warned that ships heading to each other's ports could be considered military targets. And increased tensions from fears that exports may be cut off from the region, which is considered the world's food basket. Ukraine is the world's third largest exporter of corn and the sixth largest shipper of wheat.
Prices fell on Friday as traders reconsidered threats to the global food supply. The world still has large stocks of wheat stocks. Ukraine could also turn to other routes for its grain exports, such as trains and barges, to move away from its dependence on deep-sea ports such as Odessa and Chornomorsk.
This downward move comes at the end of a volatile week that has seen the Kremlin ending The Black Sea grain deal that kept shipments of staple crops flowing through the pass, then attacks agricultural enterprises in Ukraine.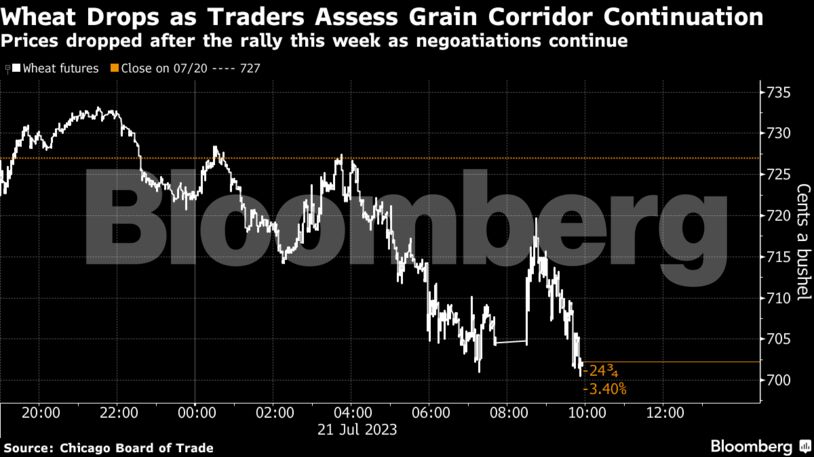 Ukraine is trying to restart trade through the corridor, though there is doubt about whether the goal is realistic. Ukrainian President Volodymyr Zelensky instructed his top military commanders on Friday to prepare "measures" that would allow the grain deal to continue operating. He also asked the Ministry of Foreign Affairs to prepare "similar diplomatic steps." The statement on Telegram from Zelenskiy did not say what the measures could be.
Senior officials from Turkey, which brokered the deal with the United Nations, said grain exports from Ukrainian ports were unlikely and that Turkey would not be involved in any shipment because Russia had threatened it might target the ship.
Russia, a top shipper of wheat, continues to export its strong supply.
Ben Buckner, senior grain analyst at AgResource Co. "We also have to closely monitor the pace of Russian exports."
'make it hard'
Ukraine's Agriculture Minister Mykola Solsky told Bloomberg TV in an interview that Russia is trying to "make it difficult" for Ukraine to export grain through the Danube. "No one knows what they can do today or tomorrow, but this is not a reason for us to stop exports."
On the other hand, Russian Deputy Foreign Minister Sergei Vershinin said that the country may conduct investigations or inspections to determine which ships are carrying in the Black Sea. While his remarks sounded softer than previous Russian comments that flag states allowing their ships to go to Ukraine would be seen as subsidizing Kiev, the situation still created uncertainty for cargo shippers.
Wheat is still poised for a weekly gain of more than 5%.
On Friday, another Russian missile attack destroyed "important infrastructure" in Odessa's Bilhorod-Dniestrovsky district, according to the regional administration. The administration said Russian missiles hit a grain depot in Odessa overnight, causing a fire and damaging agricultural equipment.
The recent rise in grain prices could again fuel food commodity costs, which have slumped since the war broke out last year.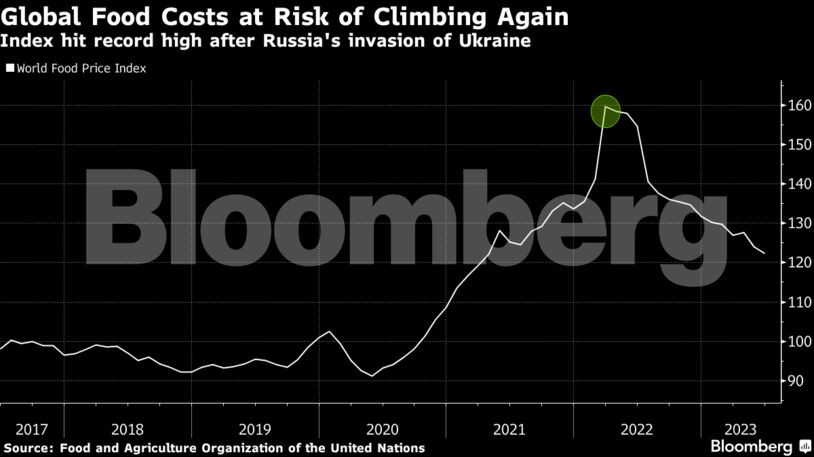 ADM Agriculture Ltd. said: "Markets have reacted wildly this week from geopolitics in the wake of Russia's withdrawal from the Black Sea Grain Initiative, and persistent weather concerns across much of the Northern Hemisphere." NB. "The hype about the military action will also make shipowners and insurers less confident about sending ships into what is now a 'war zone' environment."
The flare-up of tensions in the Black Sea adds to other risks in global grain markets. Heat threatens maize crops in southern Europe. Maxar said in a report that drier conditions await next week's corn and soybean crops in the US Midwest and Delta. India added to the food supply shocks on Thursday, saying it would ban some rice exports.
the prices
Wheat futures for September delivery fell 3.9% to $6.985 a bushel at 10:59 a.m. in Chicago, after falling 4.3%.
Corn and soybean prices also eased, but both crops are still heading for weekly advances